I LOVED this recipe called Baked Chops with Potatoes and Gravy from Pilsbury website.
I LOVED pork than chicken eat. Pork is a little expensive than chicken. I have to make sure that our local grocery is having sale in pork.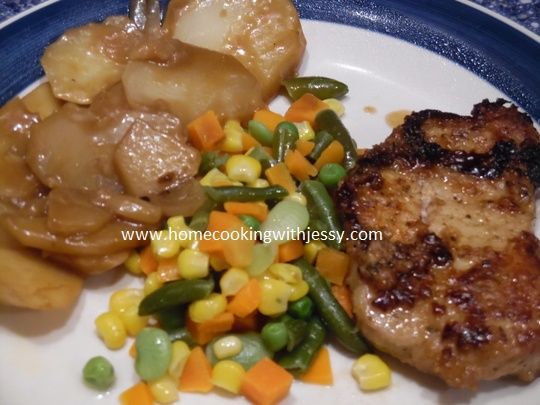 Ingredients 
6 medium red-skinned potatoes, thinly sliced
1 medium onion, chopped
1 (12-oz.) jar zesty onion gravy
4 (3-oz.) boneless pork loin chops, trimmed of fat
1/2 teaspoon garlic-pepper blend
1. Heat oven to 350°F. Spray 13×9-inch (3-quart) baking dish with nonstick cooking spray. Arrange potato slices in sprayed baking dish; top with onion. Pour gravy over potatoes and onion. Cover tightly with foil.
2. Bake at 350°F. for 30 to 35 minutes or until potatoes are tender.
3. Meanwhile, sprinkle both sides of pork chops with garlic-pepper blend. Spray large nonstick skillet with nonstick cooking spray. Heat over medium-high heat until hot. Place chops in pan. Cook 1 to 2 minutes on each side or until browned.
4. Place pork chops over potato mixture. Cover; bake an additional 15 to 20 minutes or until pork is no longer pink.
This recipe is easy to make. I also added vegetables and salad. I also made myself a rice.