My family loves to eat pasta. I do not like to eat the main spaghetti. My family also loves to eat shrimp except my summer babe who does not like any seafood. Cooking for a dairy food allergy kid is not easy. It is very difficult to cook food that she like.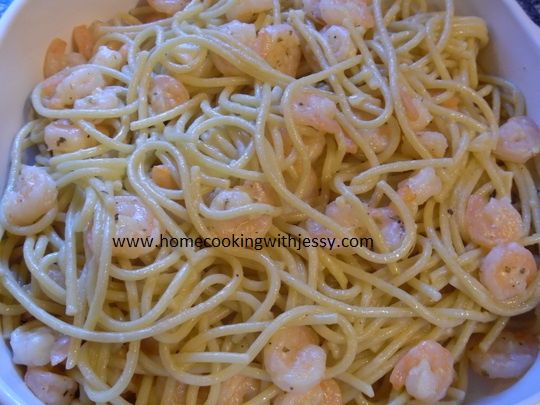 ,/center>
Anyway, I found this garlic shrimp pasta recipe in Panlasang Pinoy where I search for Filipino dishes recipe especially when I am craving very badly.
Ingredients
1 lb. shrimp (medium), shell and tail removed
3 teaspoons minced garlic
4 tablespoons butter, softened
2½ tablespoons extra virgin olive oil
½ teaspoon dried oregano
¾ lb. spaghetti noodles, cooked according to package instructions
5 tablespoons shredded Parmesan Cheese
A dash of ground black pepper
Instructions
Cook the spaghetti noodles according to package instructions. Set aside.
Melt the butter in a pan and then add the olive oil.
Add the shrimp. Cook for 1 minute.
Put-in the garlic. Continue to cook for 1 to 2 minutes or until the garlic turns light brown.
Gradually add-in the cooked spaghetti noodles. Toss until all the ingredients are incorporated.
Add the oregano, parmesan cheese, and ground black pepper. Toss again until all are well distributed.
Transfer to individual pasta bowls.
Serve. Share and enjoy!
This recipe is very easy to cook and follow. I could eat the entire bowl for myself.