I have three over ripe bananas on the kitchen counter. I do not want to throw them. I know that I still can eat the bananas. I search online for the easy banana cake recipe. I am glad that finally I found this best recipe for me. I bake banana cake before but I always failed to bake it right. It is either raw or over cooked which ended up in the garbage can.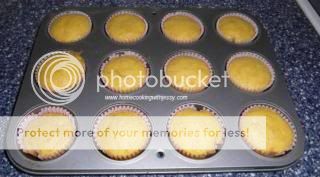 I tried to bake this banana cake recipe. I read the instructions carefully. I am glad that I still have a package of yellow cake mix. These are the recipes.
1 package yellow cake mix
1/8 teaspoon baking soda
1 cup mashed bananas (2-3 med. ripe bananas)
1/2 cup chopped nuts (optional). I did not use this as two of my family members have peanut allergy. Mix together the yellow cake mix as directed on the package, except, stir 1/8 teaspoon baking soda into dry mix before adding liquid. Also, use 1/4 cup less water than package directions to cake mix, add mashed bananas and nuts if desired. Bake according to package directions.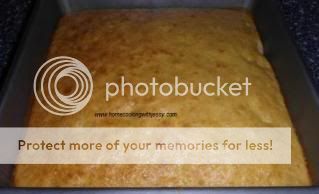 You should try this banana cake recipe. It is very moist and delicious too. I make cupcakes and they are all gone now. My kids love it. We started eating the cake in the pan. I will link this entry to
Food Trip Friday
.