I have lived here in America for 12 years. Yet my taste bud still for Asian food. One American food that I love is steak with mushroom and asparagus. I want my steak in medium rare. I also want it with my white rice.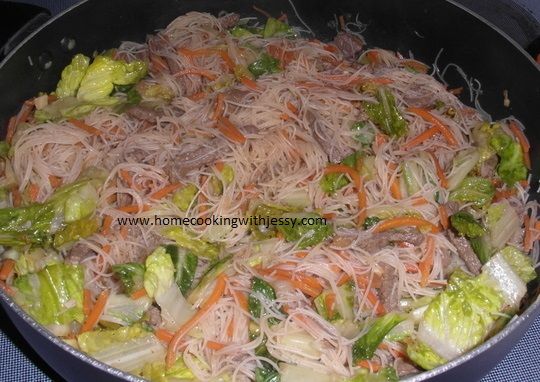 The other night I am craving for a Filipino food. I want to eat noodles. I have a vermicelli noodles which you can buy in any Asian store or International section of your wet market. You need to soak it with warm water and cut it in small pieces. I slice the beef. I marinate my beef with meat tenderizer and soy sauce before cooking it. You can also any meat or left over meat. You need a grated carrots or regular carrots and cut in Julienne style. You also need cabbage but any vegetable will do. I use a romaine lettuce. You also need garlic like two cloves and one onions small or large. You need oil. You need broth (you mix one cubes and mix it with a cup of water) You also need soy sauce but these are optional ingredients.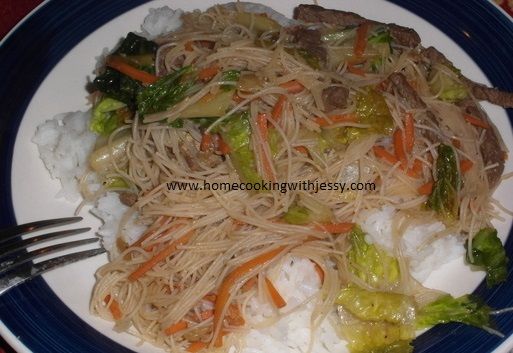 You need a pan, heat it and add an oil. When the oil is hot, add the garlic and fried it. You can add the onion and fry it with garlic until it is translucent. You can add the meat, fry it until the pink color is gone. Add the broth and cover the pan. You can simmer it for five minutes. You can add the grated carrots or any vegetables that take a while to cook. Mix it with your meat and simmer it for another five minutes or so until the vegetables are tender. You can add the vermicelli You can mix it and add the cabbage. Simmer it for few minutes. You can serve it with rice. My husband eats it with salad as well.
My kids love this vermicelli noodles with beef and vegetables. Unfortunately, it is not a favorite dish for my hubby. I think it turned out delicious. I can eat the left over the next day.